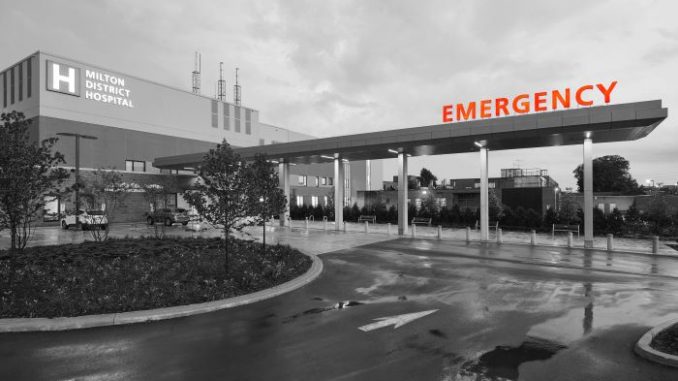 Laura Steiner, Local Journalism Initiative Reporter, The Milton Reporter
Halton Healthcare isn't immune to the pressures facing Emergency Departments across the province, thanks to the COVID-19 pandemic.
The situation has caused the company messages on their social media feeds reminding residents of their other healthcare options.  "If you need to visit the ED, come prepared with your Ontario Health Card, your medications, and an updated list of healthcare info," it said.
Halton Healthcare operates hospitals in Georgetown, Milton, and Oakville .  They're facing higher than normal patient wait-times in their Emergency Departments (ED)'s. Patients are visiting Emergency with more severe illnesses, that require more care.  "It is also reflective of COVID-19 related illnesses in our communities, which translate into a higher rate of staff and physician absences, as well as higher than usual vacancy rates," Halton Healthcare Senior Vice President, Clinical Operations Cindy McDonnell said.  Halton hospitals report 30 cases of COVID-19 as of Friday, 8 of which are in Milton Hospital.
McDonnell added that the patients' increase in severe illness means more time in the ED for diagnosis and treatment.  That in turn, leads to the increased wait times for all patients including those with less urgent conditions.  "We want everyone to know that we are still here for them and will provide them with safe, quality care," McDonnell said.