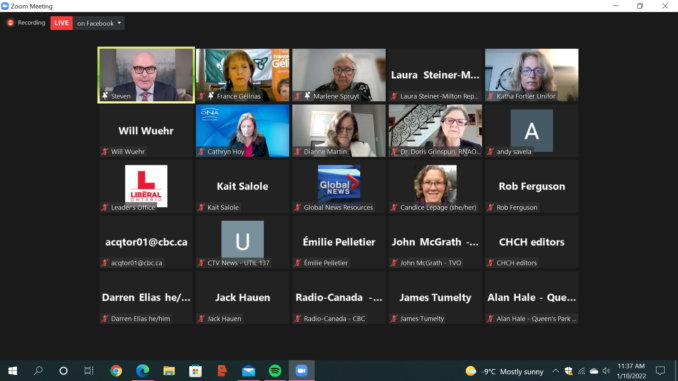 By: Laura Steiner
Ontario's opposition parties met with healthcare unions to talk about how to fix the system earlier this week. "There are no more efficiencies in our our healthcare system," NDP Health critic France Gelinas said following the summit.  The summit included Liberal Leader Steven Del Duca, Green Party MPP Mike Schreiner, as well as labour leaders from Ontario's healthcare sector.
Healthcare has been under stress since the start of the COVID-19 pandemic.  The virus's Omicron strain is considered to be less severe, but has caused a notable increase in hospitalizations.  The province has recorded an increase of 228 over yesterday's total; and an increase of 28 in Intensive Care Units (ICU).  Del Duca admits that it's been under strain for the last 20-30 years due to cutbacks from "governments across all political stripes".  "There's been this emphasis on efficiency rather than resiliency," he said.  Del Duca believes there were decisions made in advance of the pandemic, that have made the current government's decisions more difficult.  He believes there should be unity among political parties, and unions, because they know what's going on, on the ground.  "That's where I believe we need to go in this province,"  Del Duca said.
It would take 22,000 nurses to bring the Province of Ontario in line with other provinces.   There's 15,000 Internationally Education Nurses (IEN)'s in Ontario awaiting approval from The College of Nurses. A separate group of 300 have finished the process as regulated by the College, and are awaiting federal approval. "It does require an adequate, and ongoing level of funding from the federal government," Del Duca added.  Healthcare is partially funded by the federal government through the use of transfer payments. Ontario is set to receive $23.8 billion this year.
Bill 124 came up in discussions as well.  It's a piece of legislation designed to limit public sector raises to 1% or less per year passed by the Ford government in 2019.  Nurses' salary has been frozen since. Registered Nurses (RN)'s are working longer shifts than usual. The Ontario Nurses Association (ONA) has offered to sit down with the government and negotiate.  "We have suggestions that can help the system right now.  We need to focus on today, and tomorrow," ONA President Cathryn Hoy said.  "We need to work together, and act fast." The RNAO represents a group of over 60,000 nurses.