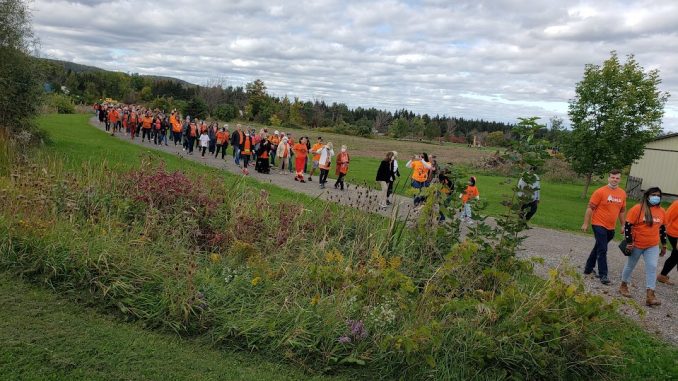 By: Laura Steiner, Local Journalism Initiative Reporter
Friday September 30 is the National Truth and Reconciliation Day. The date was chosen on purpose to coincide with Orange Shirt Day, which recognizes the legacy of Indian Residential Schools.
Grandmother's Voice is an Indigenous group dedicated providing opportunities to learn about Indigenous Cultures and practices. "To have The Grandmother's Voice, and the Orange Shirt Campaign centre is huge," Susan Aglukark said.  Aglukark is a Juno award winning Inuk singer living in Oakville.  Aglukark was wearing an orange hooded sweater, while being interviewed.
The Orange Shirt campaign was started by a woman named Phyllis (Jack) Webstad in British Columbia, a former Residential School Survivor.  She shared her story of having a new orange t-shirt taken from her at age 6 after arriving at the Residential school.
This year marks the second time as an official holiday has been held.  Last year Grandmother's Voice hosted a day-long series of in-person talks, and a Survivors' walk through the Country Heritage Park.  Jody Harbour, co-founder of Grandmother's voice estimated there was approximately 300.  "I just turned at one point, and the sea of elders walking. It was unreal," she said of the walk.
Harbour believes it's time to unite. "It's time for people to heal.  Come, and understand," she said.  This year Grandmother's Voice are hosting two virtual Q&A's 9:30 am-10:45 am, and 2-3:15 pm.  This year there will also be two walks, with the first at 12pm-1:15 pm, and the second at: 4 pm-5:30 pm. Aglukark sees the progress of the last two years.  "We are definitely moving forward.  It takes organizations like Grandmother's Voice, and a lot of people across the country," she said.
To register for the virtual events on National Truth and Reconciliation Day, and to learn about Grandmother's Voice, please visit their website.
---
Survivors' experiences are often accompanied by painful memories.  If survivors, or their family members find themselves in distress, please reach out to a 24-hour crisis line at: 1-800-721-0066.  The crisis line is operated by the Indian Residential School Survivors Society.