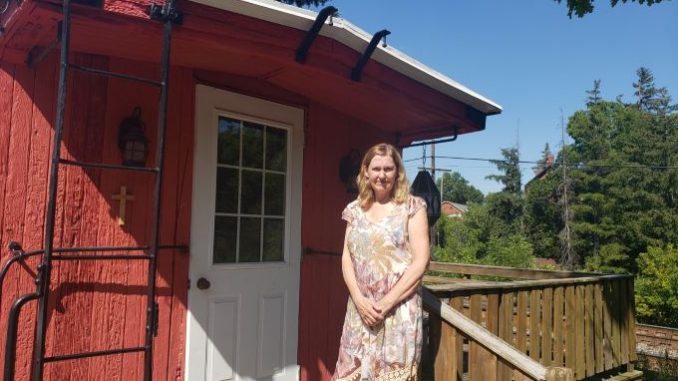 By Laura Steiner, Local Journalism Initiative Reporter, The Milton Reporter
A century old orange caboose sits in a Campbellville parking lot in front of a local furniture store.  Nobody knows for sure when it was first put there, but Laurel Wynne estimates sometime in the mid 80's.  Wynne bought, and managed a retirement Home in Bellville, which, she also ran as an Air B&B.
Wynne recently bought the caboose for $45,000.  The move was about being closer to family. "I wanted to be near my three grandchildren," she explained.   She has a son in Oakville, and a daughter in Hamilton. Wynne is used to the heritage properties, and doesn't mind the work, doing what she can herself stripping wallpaper, and finishing floors.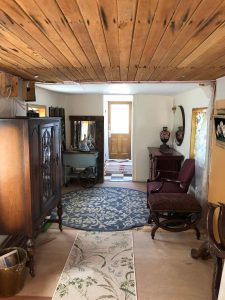 Her previous properties were dated 1921, and 1887.   "I thought, this would be an affordable solution for the summer months," she said of the caboose.  Through the winter months she stays in a friend's condo in Mississauga condo.
"I looked at rents when I sold the other property.  Rents appalled me.  They still do," she said   Rooms in Halton are looking at $700-900/ month.   A one-bedroom basement apartment could be $1200-1600/month while a condo would be $2,100 and over.  A 2-bedroom basement could range between $1400-2,000/month, while three-bedroom town houses start at $27,00/month.
Wynne is 64 years old, and retired. "Two grand a month going out for rent wasn't what I envisioned at my age.  That depletes your resources pretty quickly," she added.  Landlords realize that provincial rules in Ontario favour the renters, and many have increased their screening procedures to include financial stability, in the form of steady employment.   It's even more difficult for those who rely on government support programs. "Being employed for minimum wage or dependent on Ontario Works or Ontario Disability Support funding increases the difficulty for our clients to graduate into that long term stable affordable housing of their own," Milton Transitional Housing Executive Director Donna Danielli said.
Real Estate prices are down 20-25%, and when combined with increase in Interest rates have stabilized rents.  "To keep monthly payments the same for a buyer, a 1% rise in interest rates would need to be counterbalanced by a 10% reduction in value of the property," Charlton said.   A landlord carrying a house worth $900,000 would have to rent it out for $3,000/month.
"Rising rental costs and scarcity of available rentals means it is significantly more difficult to find and secure that long term housing," Danielli said.