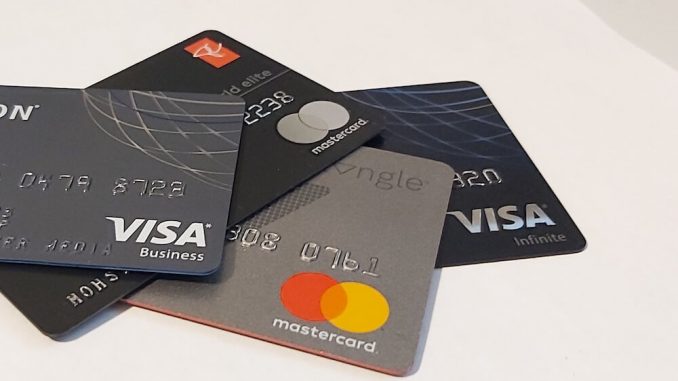 Saeed Akhtar, Local Journalism Initiative Reporter, The Milton Reporter
Credit card spendings have seen an increase in Canada following the ease of Covid-19 restrictions and higher inflation, a recent report by a market intelligence group has revealed. 
Ontario saw the biggest increase in credit card spending (up by 20.4 per cent) followed by Quebec (18.4 per cent) when compared to the same time period last year.
This was found in Equifax Canada's most recent Market Pulse consumer credit trends and insights report.
Consumer reliance on credit cards is increasing, with the average monthly spend per credit card consumer climbing by 17.5 per cent in Q1 2022 compared to the lows of Q1 2021
Rebecca Oakes, Vice-President of Advanced Analytics at Equifax Canada said that 'pent-up demand, easing of travel restrictions, and inflation were the factors driving increase in credit card spending. 
"Unfortunately for consumers, this is also at a time when the Bank of Canada is raising interest rates", she said. 
"Across age groups, Gen Z and Millennials are driving up higher consumer spending the most. With gas and food prices increasing at a higher rate than overall inflation, it's very important for consumers to revisit their budget allocations."
Lenders are providing higher credit limits to consumers on new credit cards, with the average credit limit on new cards this quarter reaching over $5,500, the highest it has been in the last seven years.
On an individual basis the average consumer debt (excluding mortgages) is now $20,744, an increase of 1.5 per cent when compared to Q1 2021. It is the first year-over-year increase since 2019.
Both new auto finance and comparable bank loan* volumes were down by 1.1 per cent and 6.4 per cent year-over-year respectively. However, high car prices continue to drive up the average loan amount for new auto ($26k) and comparable bank loans ($31k) by 5.9 per cent and 10.2 per cent.
Multiple interest rate hikes coupled with seasonality have brought down new mortgage volume by 13.2 per cent this quarter when compared to the peaks of Q1 2021, but the levels are still higher than pre-pandemic numbers. Some of the biggest drops were seen in the hottest housing markets, Ontario, and B.C., with 15.7 per cent and 17.6 per cent year-over-year declines in new mortgage volume.
First time home buyer volume dropped by 16.1 per cent in Q1 2022 vs Q1 2021. 
"First time home buyers are feeling the heat from the rising interest rates," said Oakes. "Despite house prices stabilizing somewhat, Bank of Canada interest rate hikes are reducing consumer affordability. First time home buyers are not only taking higher loan amounts, but with high interest rates they are also paying more in monthly payments, unlike first time home buyers in early 2021 who benefited from lower rates and lower payments.
Ali Ahmed, a Milton resident commented on this report saying that he had indeed increased his credit card spending because the increase in gas prices had upset his monthly budget. Ahmed, 34, described himself as 'financially savvy' and said while he had increased his card spending, it had its own perils and young people should focus more on cutting their costs rather than paying them through their cards all the time. 
Shivangi Mehta, a young chartered accountant who has recently moved from Dubai to Milton, said she was hoping to buy a home here through a bank loan, but with increasing interest rates, it felt like she would have to shelve her plans for some time.