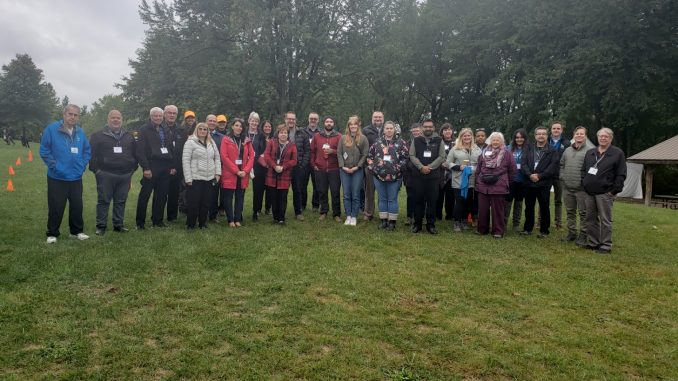 By Laura Steiner, Milton Reporter Staff
Halton Region is marking 16 years of the annual Halton Children's Water festival.   From September 27-29 area students have the chance to learn about water through doing curriculum-based activities at Kelso Conservation Area.
The three-day festival marks its return to an in-person format.  675 students are expected to attend, with a waiting list approximately 1500 students.  "It's a nice problem to have, but still a problem," Conservation Halton President and CEO Hassaan Basit told a group of supporters.
The festival was held online the last two years throughout the COVID pandemic, offering students approximately 80 different modules to students.  Organizers are planning to keep that element to it, considering it an addition to the festival.  "The virtual programming is still going continue alongside it (the in-person festival) because it opens up the possibility for more students to get engaged," Basit said.
Tents were set-up throughout a grassy area each housing a different activity based on water.  One was called an "awesome aquifer" that traced the water cycle from its start as precipitation through the absorption into the ground, and into the pipes.  They were staffed by volunteers, including Bob  Edmonsdon, who worked for Conservation Halton, and retired in 2013.  "It's fun to listen to the questions, and they're pretty knowledgeable too," he said.  The activities featured an interactive component where the moderator asks them questions, while guiding them through the water process.
Basit hopes students take away an ability to connect what they learn in school to their activities at the festival.  "What I hope they take away from here is just an appreciation for observing, and participating in the science," Basit said.  To learn more about the Halton Children's Water Festival visit their website