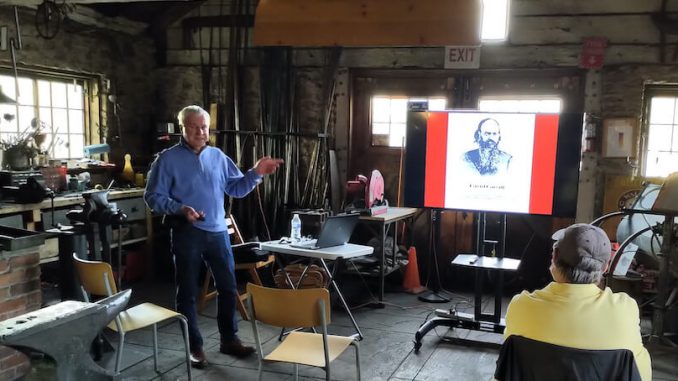 By Laura Steiner – Local Journalism Reporter, The Milton Reporter
Noted author and historian John McDonald shed light on contributions of former lumber baron Henry Cargill (1838-1903), who is among Miltonians who have distinguished themselves on national and international stage. 
McDonald highlighted life and times of Cargill in his presentation at Milton Historical Society's monthly speaker series. 
At the May 19th talk, Mr. McDonald who, arguably, wrote the region's seminal book of local history — Halton's Heritage — William Halton & Halton County — efficiently covered off Mr. Cargill and his family's personal, business and political involvements in Nassagaweya during the mid-1800s before providing considerable detail about their more noteworthy contributions in Bruce County in the late 1800s and early 1900s. 
Mr. Cargill didn't leave Nassagaweya Township and Halton County because he didn't value his residency here anymore, explained Mr. McDonald. After all, he owned several hundred acres of land locally, was a successful businessman and was also a well-regarded municipal councillor. He simply left because the available supply of pine trees to support his growing lumber mill was dwindling. Bruce County's Greenock Swamp was available for purchase and it contained large stands of white pine that would support Mr. Cargill's lumber interests.
While Mr. Cargill re-entered municipal politics in Bruce County as reeve of Greenock Township (1884 – 1886) and, later, as the member of federal Parliament for Bruce East (1887 – 1991, 1892 – 1903), Mr. McDonald argues his business, community and philanthropic  pursuits set him apart from most industrialists of his era and, quite possibly, many today.
On the business side, he figured out a way to create waterways in his several-thousand-acre Greenock Swamp holding, fell the trees during the winter and float them along the canals to his mill in the spring — all the while reclaiming the cleared areas for farming and selling off the lands for that purpose.
From the perspectives of community and philanthropy, Mr. McDonald credibly reasoned that Cargill, the village named for its founder, was an early, notable and still rare example of thoughtful municipal planning. Using his mill as the source for construction materials and power, Mr. Cargill constructed homes for his family as well as his employees; installed electric lights, a telephone service and a water tower for fire safety purposes; and established a general store, a Post Office, a school complete with teachers, a library stocked with books and three churches of varying denominations (Anglican, Methodist and Presbyterian). 
He also partially funded a railway, which caught the attention of then-Prime Minister Sir John A. MacDonald, himself an advocate of commercial and passenger rail transportation.
The only service Mr. Cargill would not build for his community was a hotel because he was concerned that it might affect worker productivity at his mill, Mr. McDonald revealed to an amused audience.