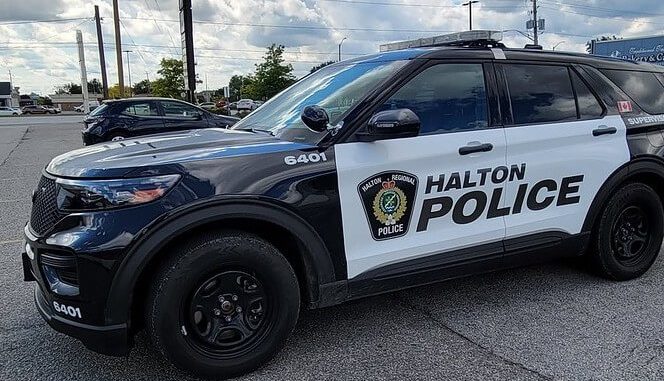 By: Laura Steiner, Milton Reporter Staff
Halton Region Police Service (HRPS) is warning of an ongoing police presence along Bronte St. between King, and Main St in relation to an ongoing shooting investigation.
The suspect fled in a black Jeep Cheorkee, with a license plate: CLMZ 905.  Police advise residents not to approach because the suspect is considered armed and dangerous.  Call 9-1-1 if they see anything.
Bronte St S closed from King St to Main St in Milton in relation to shooting investigation. Suspect fled the area in a black Jeep Cherokee.

Suspect considered ARMED AND DANGEROUS. DO NOT APPROACH. CALL 911 if seen.

Expect ongoing police presence.

Please avoid area. pic.twitter.com/Xks8GHsS2N

— Halton Police (@HaltonPolice) September 12, 2022
4:15 pm: Investigation Causes Transit Delays
Milton Transit Routes 2 (Main), and 6 (Scott) are now both on detours due to the ongoing investigation.
4:35 p.m.: Suspect Taken Into Custody
The suspect is now in police custody.  One person has been pronounced dead at the scene in Milton. Two others have been transported to hospital.
The car used in the incident in Milton has the same plate numbers as one seen leaving the scene of a double shooting incident in Mississauga at around 2:15 p.m.  One victim was taken to a trauma centre.  Several Media sources indicate that the deceased in Mississauga is a Toronto Police Officer.
8:10 p.m.  Third Incident Reported in Hamilton
A third shooting incident has been reported in a Hamilton Cemetery.  Hamilton Police Frank Bergen sought to "reassure the public there is no longer a risk," according to the CBC.
Officers were notified shortly after 4pm this afternoon that the suspect was heading towards the southern Ontario city.  Police were involved in an incident with the suspect, and Halton police.
The Special Investigations Unit (SIU) has confirmed via twitter, that they have invoked their mandate, and will have an update later today.
The SIU has invoked its mandate in relation to a shooting involving a Halton Regional Police Service officer this afternoon on York Blvd in Hamilton. Media officer en route to scene.

— Special Investigations Unit (@SIUOntario) September 12, 2022
11pm -Mississauga victim confirmed as TPS Constable
The deceased victim in Mississauga was identified as Toronto Police Service (TPS) Constable Andrew Hong.  48- year old Hong served in the traffic services division, and was a 22 year veteran of the Toronto police service.  According to Toronto Police Chief James Ramer, he was in the area taking part in joint training exercises with other area police forces.  "I am working closely with Chief Nishan Duraiappah to determine what exactly happened to our officer," Ramer said.  Hong leaves behind his wife, two children, and parents.
Meanwhile in Milton, sources have identified the deceased victim as Shakeel Ashraf.  Ashraf was the owner of MK Auto Repairs, located on Bronte St.  He's being remembered for his love of cricket, having played in a local cricket league.   He is survived by his wife, and three daughters.
11:15 pm: The Special Investigations Unit (SIU) has assigned seven investigators, and two forensic investigators to the case.