By: Laura Steiner, Local Journalism Initiative
Milton is remembering 38-year old Shakeel Ashraf, one of the victims of yesterday's violence  throughout the Greater Toronto area (GTA) as a friend to all. Ashraf owned MK Tire along Bronte St.
Customers remember him as a straightforward Mechanic who often had a candy to offer children that came in with their parents.  "We lost a great soul today," Komal Jafri said in a Facebook post.  He's being remembered by others for his huge smile, and giving spirit.  He even loaned a customer his own car as a rental while their brakes were fixed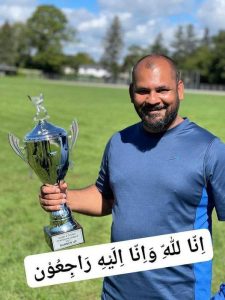 Ashraf is from Nankan Sahib, a city considered holy to Sikhs, in the Punjab region of Pakistan.  He was a passionate cricket player, who took part in a local softball cricket league, and provided opportunities for immigrants, and refugees.   He is one of three victims, who died including a Toronto Police Officer Andrew Hong.
"I want to personally thank the many front-line men and women, and all first responders for doing everything they could do to ensure the safety of our residents.  I also want to thank the many individuals and organizations who have inquired as to the well-being of our officers, and of the other officers involved in this tragedy.  Your thoughts and support are greatly appreciated," Halton Regional Police Service (HRPS) Chief Stephen Tanner said in statement. HRPS continues to investigate the incidents in cooperation with the Peel Regional Police Service.
HRPS also confirms one of their officers was involved in an 'altercation' with the suspect in Hamilton.  The province's Special Investigations Unit (SIU) has invoked its mandate to investigate the incident. Anyone with information regarding these events to contact the Homicide Tip Line at: 905-825-4776.  Information can also be submitted anonymously through CrimeStoppers at 1-800-222-8477 (TIPS), or their website