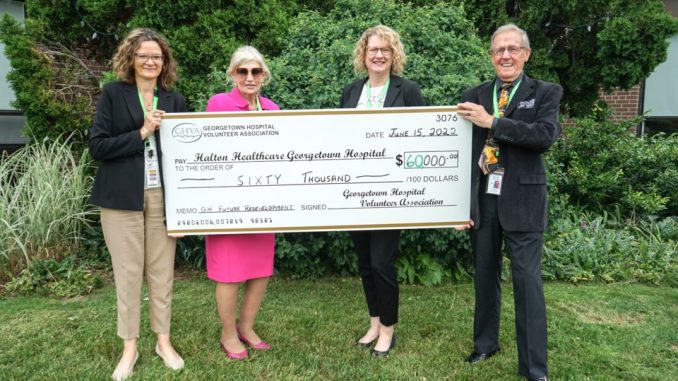 Laura Steiner, Local Journalism Initiative Reporter, The Milton Reporter
The Georgetown Hospital Volunteer Association (GHVA) has given a cheque for $60,000 to the Georgetown Hospital at their virtual Annual General Meeting.
The GHVA has a stated aim to provide service, support and fundraising for their community hospital and has a team of 141 volunteers.
The Association raises funds through many annual events including the poinsettia sale, as well as the Gift Shop, lobby vendor sales and the HELPP Lottery.
"During the pandemic we had to temporarily reduce or pause many of the volunteer services at Georgetown Hospital in order to keep everyone safe. Unfortunately, this also meant canceling many events. Thankfully, we are gradually resuming all of our activities," said Allan Welters, President of the GHVA.
Interim Chief Operating Officer of Georgetown Hospital, Janet Skupsky said that this year's cheque of $60,000 demonstrated the 'unwavering commitment and generosity' of all the volunteers.
"Their dedicated service to the hospital truly enriches the patient experience."
"I am honoured to be part of the GHVA's AGM today. Every one of our volunteers has done such an impressive job supporting the hospital – they help our patients, families and staff in so many ways, not to mention raising funds in spite of the pandemic," added Monica Bettazzoni, who was recently announced as Georgetown Hospital's new Chief Operating Officer and Director for the Georgetown Hospital Family Practice Program.
Halton Healthcare is a healthcare organization comprising three community hospitals – Georgetown Hospital, Milton District Hospital and Oakville Trafalgar Memorial Hospital.
Together these hospitals, along with their community locations, provide healthcare services to nearly 400,000 residents in the communities of Halton Hills, Milton and Oakville.
Halton Healthcare hospitals have been recognized for their best practices in a number of patient safety and patient care initiatives.