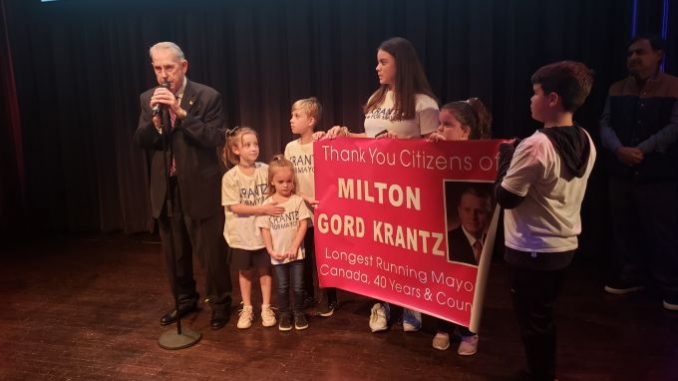 By Laura Steiner, Local Journalism Initiative, The Milton Reporter
Gord Krantz has been re-elected as Mayor of the Town of Milton.  He won tonight's election with 49.51% of the vote (11391 votes).  His closest competitor was Zee Hamid with 10396 votes, translating to 15.18%.
"There's very little secret to it.  Just be forthright and honest with the public.  I've often said What you see, is what you get," Krantz said.  Polls closed at 8pm, and the race was called unofficially for Krantz by 9:30.  This will be his fifth term as Mayor.
Limiting the impact of inflation on taxes will be one of his top priorities.  "We have to wrestle with inflation now, and I know the last thing people want is huge increases with their taxes.  That's one of the things this new council will be faced with," he said.
Three New Faces Elected to Council
Mayor Krantz is joined at the council table by three new faces.  Ward three had two new faces.  Municipal candidate Adil Khaliqi took 37.20% of the vote (2067).
Sammy Ijaz upset incumbent Mike Cluett, and challenger Rick Di Lorenzo.  Both were three term councilors.   Ijaz took 38.13% of the vote (2182 votes).
In ward four Sarah Marshall beat out a field if 10 candidates with 21.37% of the vote  (1041).  Second was Giles vander Holt. with 860 (17.66%).  Sameera Ali won for Ward 4 Regional Council.
Ward 1 Councillor Kristina Tesser Derksen was re-elected to a second term defeating George Minakakis, while ward 2 Councillor John Challinor was re-elected beating out challenger Mike Vertolli.   Regional Councillors Colin Best (Ward 1) and Rick Malboeuf (ward 2) were acclaimed, as nobody registered by the deadline to run against them.
"We'll work together, we'll make sure of that.  Krantz said.  A total of 23,298 ballots were cast, making the turnout just under 29% (28.99%)