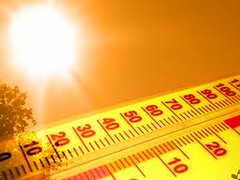 By Laura Steiner, Local Journalism Initiative Reporter
The Town of Milton is under a heat alert.  Environment Canada is forecasting a two-day heat event over the next two days.
Daytime temperatures could go as high as the mid thirties (Celsius). Nighttime temperatures are forecast in the low twenties, providing little relief.
The Region of Halton has declared a heat warning, and are reminding residents to check in with vulnerable family/friends to make sure all are saying cool and hydrated.
The Region of Halton offers the following tips:
drink plenty of cool liquids, especially water;
avoid strenuous outdoor activities;
seek shade from the sun;
close blinds and shutters during the daytime and open them at night;
take cool showers, and mist yourself and your clothing with cool water to help keep yourself from overheating; and
never leave people or pets in your care unattended in a car.
If residents, or their families experience rapid breathing, headache, confusion and lack of coordination, weakness or fainting, they are advised to immediately call 9-1-1.